Mountain biking has its thrills and spills; there is a unique sense of fun to be had when negotiating and conquering trails where no cars can ever dream of going through. You can easy to pick the best mountain bikes under 1000 dollars and start your biking adventure.
You've probably had the time to go through each and every trail in and around where you live. You've breezed through the easy paths, climbed the hardest slopes, and you've even challenged yourself further by making slight changes in which path to take, and what gears you would use.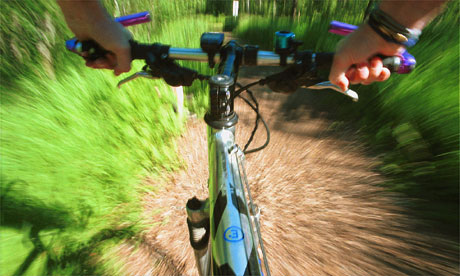 What's next? Is it necessary for you to make some serious travel arrangements to see brand new paths and trails to conquer? Think again. If you haven't heard about the bunny hop by now, then this is the perfect time for you to practice and master this advanced biking skill.
The bunny hop literally gets you out of the ground and in the air – bike, body, and all – without the help of a ramp. You perform bunny hops to enhance your abilities to negotiate a trail, or to bypass obstacles so much quicker. That being said, with good experience in bunny hopping, you would be able to conquer trails quicker, while further distinguishing yourself as a more capable mountain biker. Learn more about mountain biking skills at Recreation Space dot com.
Two Ways To Hop
There are two general types of bunny hops to try and to practice: The English bunny hop, and the American bunny hop. The English Bunny Hop (also known as the two-wheel lift) is used by mountain bikers to quickly make adjustments to their position. If, say, you are on the right lane of a trail and you need to get on the left area quickly, you can perform an English bunny hop for you to change positions seamlessly, without steering or slowing down.
On the other hand, the American bunny hop (or, the traditional bunny hop) is what you use to really get some hang time, to jump over small rocks, and even tables when necessary. While the bike's wheels get off the ground simultaneously on an English bunny hop, in this case you would work your bike and body to get the front wheel flying before the rear wheel (and, consequently, everything else) follows. Continue reading